Farmers learning from farmers – IP Workshops in Vietnam
More than 150 farmers in Vietnam participated in a series of farm fields workshops on implementing partner (IP) learning. The training was organized in the Dak Lak, Lam Dong, Gia Lai and Dak Nong province, led by the Vietnam Coffee Coordination Board (VCCB) with the support of the Global Coffee Platform, IDH, the Sustainable Trade Initiative and other private stakeholders, aiming to empower farmers with advanced knowledge of the sustainable coffee farming models and increasing their adoption of practices that will increase farming efficiency and its income.
The sessions were especially interesting as for the fist time farmers, who have been already trained, participated as trainers. This farmer-centred approach helps bringing IP learning topics one step closer to farmers' reality, as the knowledge is not seen just as a goal to reach but also as an already successful case of implementation. The workshop involved representatives of the production sub-committee, Provincial Agricultural Extension Centres (PAECs), representative of Vietnam – Sustainable Agriculture Transformation (VnSAT) Project, and coffee companies such as Olam, Acom, Louis Dreyfus, Nestle, The Married Bean, Phat Thanh Ca Phe, Coffee coops.
Through the workshop, the farmers had the opportunity to visit some farming models to exchange their knowledge and experience, as well as getting to know other challenges beyond the models, which farmers are currently facing in Vietnam. For example, in the model of NesCafe Plan, the participants could learn from a standard intercropping farm, where coffee is appropriately mixed with pepper, and about coffee quality, harvesting, processing, maintaining and labour safety. The models of Olam and Acom gave farmers ideas for various saving irrigation systems, such as Partial sprinkler, and Mimosa TEK drip irrigation system, which help saving costs and increasing the adaptability of the farms to climate change effects. Farmers learned from the sustainable landscape model with LDC on shady trees, intercropping, soil and water preservation and pest management. Additionally, the participants in the workshop hat the chance to visit some successful cooperatives, such as the Binh Minh cooperative, where they can learn about the operation, management and governance, as well as the advantages of being a cooperative's member.
The workshop not only equipped farmers with knowledge from ideal models, but also connect them with the VnSat, where they could get access to financial support. On this occasion, the representatives of VnSat in those provinces explained the farmers available funding projects and encourage them to set up groups or cooperatives to facilitate such opportunities even more.
The participants also engaged into exchanging contacts, setting an interesting learning network that could increase collaborative action at local level. The workshop was highly appreciated by the farmers and their feedback will also be considered for future initiatives. The Global Coffee Platform will keep enabling these projects and supporting their members to accelerate its sustainability journey.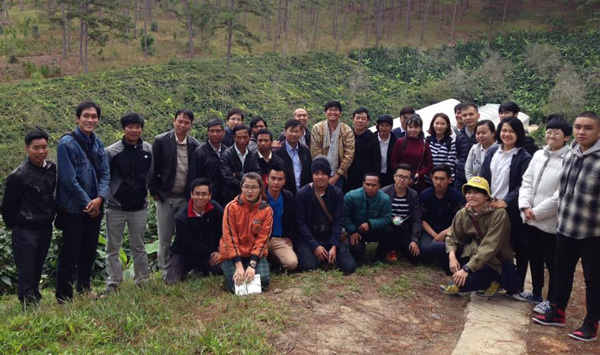 Do you want to know what the Country Platform is doing in Vietnam? Click here
Are you seeking to invest in a specific topic in coffee? Check our Collective Action Networks